Search websites, locations, and people

Westlake University-Muyuan Group Joint Research Institute Holds Unveiling Ceremony

19, 2021
PRESS INQUIRIES
Chi ZHANG
Email: zhangchi@westlake.edu.cn
Phone: +86-(0)571-86886861
Office of Public Affairs
On April 12, the opening ceremony for the Westlake University-Muyuan Group Joint Research Institute was held in Hangzhou.
Westlake University is a first of its kind research university in modern China supported by both the public and the public sector, it adheres to the values of 'Excellence, Refinement, and Research-Orientation'. Muyuan Group is a leader in the national animal husbandry industry, has been committed to accelerating the transformation of the industry through technological innovation and has successfully blazed a new path of intelligent breeding and modern production for the development of ecological agriculture. Both Muyuan Group and Westlake University seek to shoulder social responsibilities. The establishment of the Joint Research Institute is to carry out common ideals and technological innovation, make breakthroughs and achievements, and contribute to the betterment of society.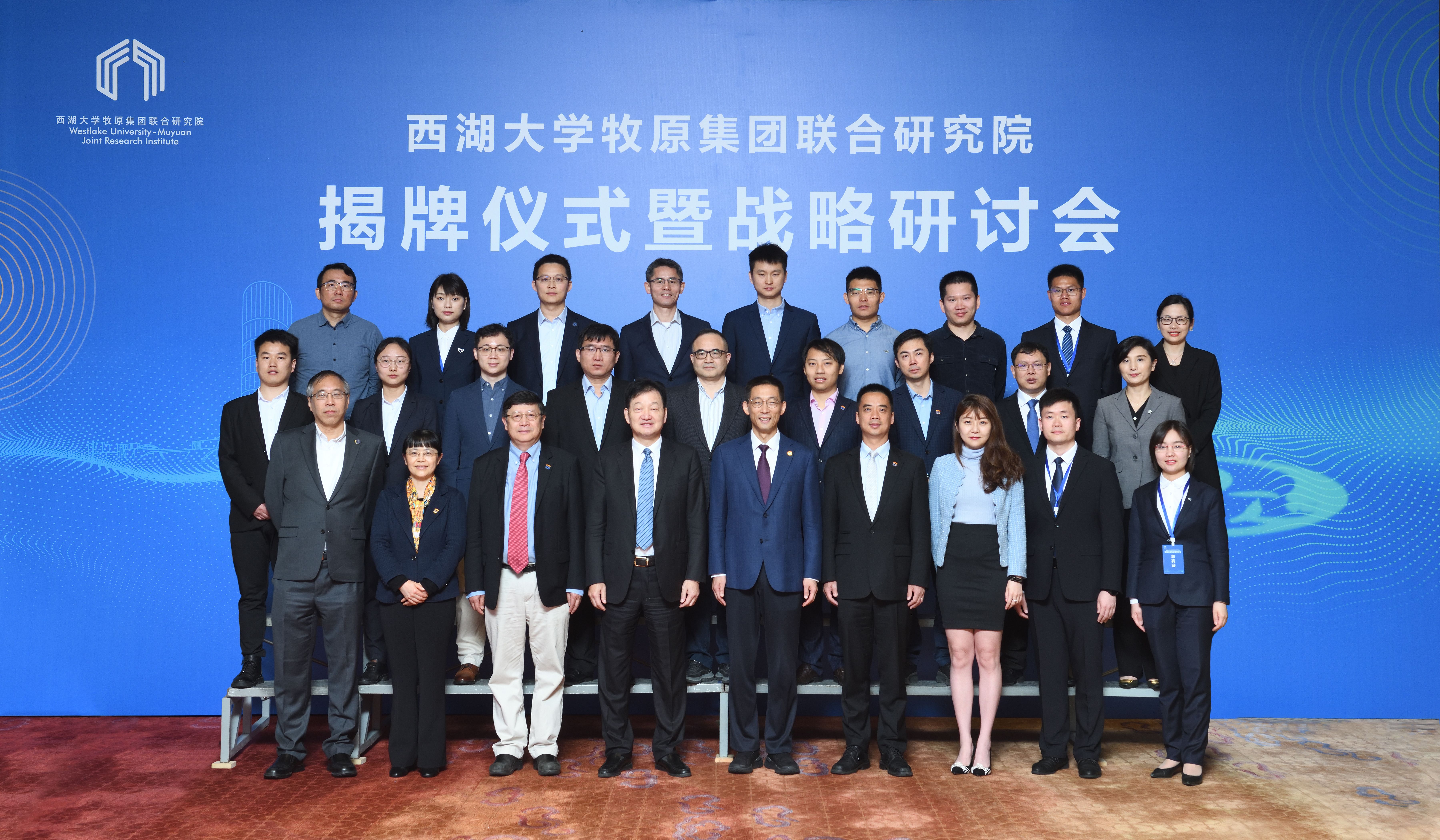 "We see that Westlake University is a high-level university that faces the future, focuses on cutting-edge research, leads the development of disciplines, and solves high-end scientific and technological problems. It meets the need for future social development," said Yinglin Qin, Chairman of Muyuan Foods Co., Ltd. He went on to say, "through the power of Westlake University, our technology will support the healthy and stable development of the industry in all directions. We look forward to the future of Westlake University's industrial integration to enable technological progress to be implemented, boost China's economic development, and create more value for society."
Eight PIs (special researchers, doctoral supervisors, etc.) joined the joint research institute, namely Qi Hu, Huaizong Shen, Liang Tao, Heping Xu, Xiaofei Li, Kai Liu, Lin Yang, and Kechun Zhang.
These PIs mostly come from the School of Life Sciences and the School of Engineering of Westlake University. They will carry out the first batch of scientific research projects of the Joint Research Institute with the two directions of life science and engineering. They presented their work on vaccine research and development, wastewater treatment, and intelligent systems at the ceremony. Minhao Liu, head of the Joint Research Institute, also presented a report on work developments in 2020 and the key work plan for 2021.
Muyuan Group was founded in 1992, and has now formed a comprehensive modern enterprise group with a core business in live pig breeding, integrating feed processing, and pig slaughtering and processing. Its subsidiary, Muyuan Food Co., was listed in 2014. The swine industry covers 24 province-level administrative regions, 100 cities and 211 counties across the country. The current pig breeding industry is moving from industrialization and automation to 'intelligentization', integrating technologies from multiple fields and multiple disciplines, including genetic selection, disease prevention and control, energy conservation and environmental protection, and intelligent applications.
In recent years, Muyuan Group has continued to increase R&D investment and the introduction of high-tech talent, and has obtained 782 patents, which have overcome major problems such as biological breeding, environmental protection of pigs, and disease prevention and control.
The Joint Research Institute plans to attract talent and increase in size. It also has plans to launch a series of academic exchange programs such as the "Joint Research Institute Muyuan Scholars Program", the "Joint Research Institute Special Enrollment for Postgraduate Training Program", "Muyuan Visiting Students", and others. It will operate with an interdisciplinary focus with a view for exploration in education and research.
With cutting-edge scientific research to promote leapfrog development of key pillar industries related to the national economy and people's livelihoods, the Westlake University-Muyuan Group Joint Research Institute will become a new starting point in this effort. Westlake University will uphold its original aspiration and shoulder its mission to provide a powerful engine for China's high-tech sustainable development, and to make a contribution worthy of our society to the world.