Search websites, locations, and people

Yigong Shi: A University Has the Responsibility to Protect the Curious Hearts of Each and Every Student

22, 2021
PRESS INQUIRIES
Chi ZHANG
Email: zhangchi@westlake.edu.cn
Phone: +86-(0)571-86886861
Office of Public Affairs
On August 22, 2021, 313 doctoral students joined Westlake University as the fifth cohort, marking another historical moment for Westlake and increasing the total number of PhD students by 50% passing 900.
The welcoming ceremony for new students kicked off with a jog at 6am. With the new PhD students joining, the team was bigger than ever.
Due to the pandemic, the welcoming ceremony was hosted both online and offline. President Shi gave a speech centered around "the power of exploration", inviting existing students and new ones alike to ponder on the hardship mankind has been under since the beginning of 2020 and their role in it. Below is the translated transcript of the speech:
PART I: Explore As You Learn and Innovate As You Explore
Dear students, your life at Westlake University begins today. You are about to experience the most vigorous, exciting, and memorable change in your life. From this day, you turn away from just accepting knowledge and towards the path of exploring the unknown. And from this day, Westlake's and your future will be forever connected.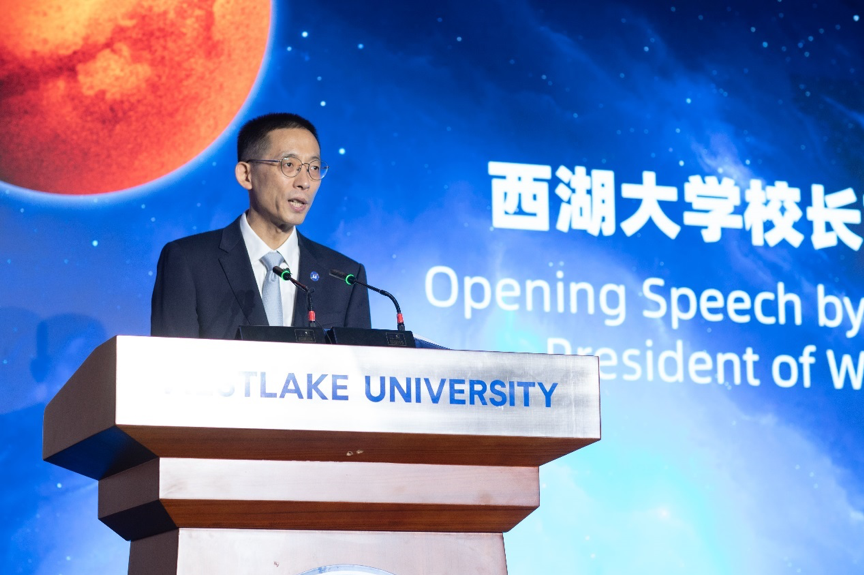 You are chosen not just for your academic excellence, but more because you demonstrated a spirit that resonates with Westlake University's values. Each of you were raised from different backgrounds and bring different living, study, and academic experiences; each of you have a personal story of your own. You have not just gathered here from all across China; in fact, 60 of you have come from 42 universities overseas. Westlake University will provide you a driven, inclusive, free, and innovative environment where we will protect your unique characters. We hope you will understand each other well and respect each other, and become part of this enthusiastic family. In the coming years of living and striving at Westlake University, you will sooner or later get imprinted with its qualities: knowledge-seeking, explorative, virtuous, and willing to take responsibility.
Westlake University is a new type of research university established in China striving to be a world-class university. We are no copy of any university in the world; nor do we fall under any existing university model. Its founding mission is to nurture innovative talent and scientific exploration in China and to contribute to the future of humanity and the world. Today's societies are fast-changing and efficiency-focused, and people tend to focus on results only, often disregarding the process of how results have been achieved. This short-run and profit-focused trend runs through all professions and sectors creating anxieties and uncertainties. Many people have given up on a cause and have no purpose. And universities, as sanctuaries of the human spirit, should stand strong like sturdy oaks and provide shelter. Universities should be a place where level-headed, sustainable and meaningful decisions can be made.
At Westlake University, we will not just develop key technologies that can solve major global issues currently facing mankind, but we also aim to make fundamental breakthroughs developing theories that will impact the next 50 or even 100 years of development; we want to cultivate generations of talent embracing such a curiosity for our world, having the courage to step into the unknown and willing to take social responsibility. The continuous exploration in science is what drives mankind to move forward. Universities must protect the curious hearts of each and every science explorer and provide a supportive and tolerant space, no matter the scientific results and no matter the gains and losses. This is a fundamental consensus reached within the Westlake community.
Dear students, now that you have joined Westlake University as PhD students, you will soon find yourselves immersed in such a culture and become part of this incredible journey. In classrooms or labs, on the sports field or in the library, at a conference or in the wider world; everywhere, you will advance and broaden your horizons, find new opportunities and tackle new challenges.
So, explore as you learn and innovate as you explore!
PART II: Continuously Explore and Surpass Yourselves
Here at Westlake University, we expect you to continuously challenge your own thoughts, take views from different angles, and raise new questions. Rather than blindly accepting the status quo, you must think critically, develop new methodologies, and question authorities and existing practices prevalent in the science community. You will participate in cutting-edge projects, and you will fail many times but learn from these failures until you ultimately find a viable path. You can choose various inspiring courses, join various liberal academic activities, learn from various fields of research, and adopt various perspectives and ways of thinking. Here, you can raise your voices and state your opinions, debate with others, but also accept feedback with an open mind. It does not matter whether you or they are right or wrong, because it is simply all about the process of exploration, and everyone deserves understanding and respect.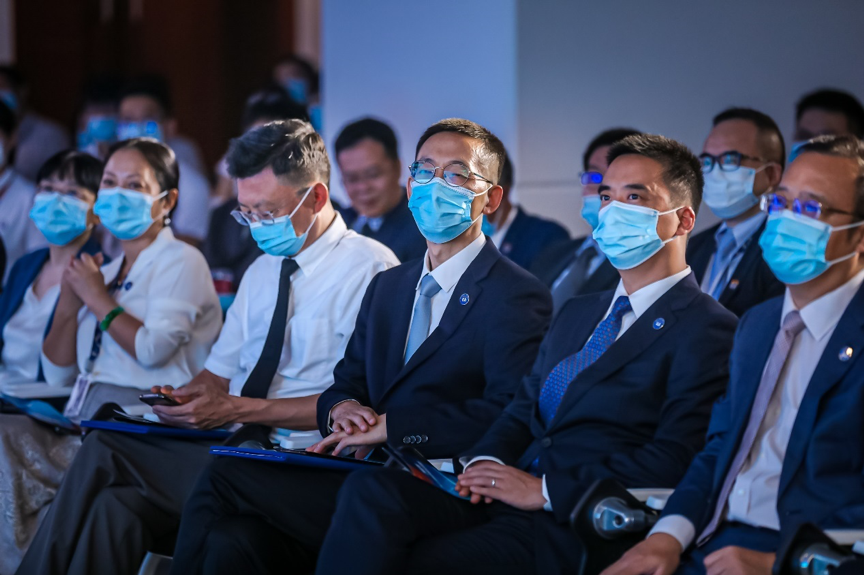 I look very much forward to seeing you find your own paths in research and overcome all the overwhelming obstacles along the way. I hope you will gain the strength to continuously surpass yourselves and upgrade yourselves. This is not just about getting a degree; this is about laying the foundation for your entire live.
Part III: Continuously Explore and Make the World a Better Place
Since the beginning of 2020, mankind has been struggling through severe hardship. One single tiny virus has caused irreversible changes in our lives, and even until now, we are still living under the shroud. At the same time, extreme climate catastrophes have become more frequent. These remind us of our insignificance in front of nature and how little we understand about the natural world. Yet, mankind is blessed with the courage to go for the impossible, explore the unknown, and make a change in this world. Our answer to the question of "what is happening to the world and what should we do?" shall be: Only if we come together can we overcome challenge after challenge; only with the power of science can we solve problem after problem.
Dear students, as PhD students of cutting-edge sciences and technologies, you carry the hope of our society. Each and every one of you could influence and change society and improve the world. This is a mission especially important for Westlake University owing its very existence to the generosity of our donors. I look forward to seeing the day when you, empowered by knowledge, contribute to our society, improve the wellbeing of our citizens, and promote human civilization.
Part IV: Continuously Explore and Create the Future
Back in 2003, when the launch of spacecraft Shenzhou 5 was broadcasted live, I still remember how nervous I felt. Even after the successful liftoff, I was so excited that I couldn't sleep at all that night, and I couldn't quite relax until it safely returned to earth on the following day. This year, Shenzhou 12 will again carry astronauts on an expedition into space, but this time they are not just flying out there to "have a look" and then return after two days; this time, they are going to stay for a full three months. To explore the mysteries of the universe, to set foot in outer space, and to possibly make a home out there – these embody mankind's everlasting pursuits and realizations of future dreams. From quantum computing, artificial intelligence, gene editing to renewable energies, it takes research from multiple fields to make such major breakthroughs. There is no doubt that technological innovation is a driving force of future change.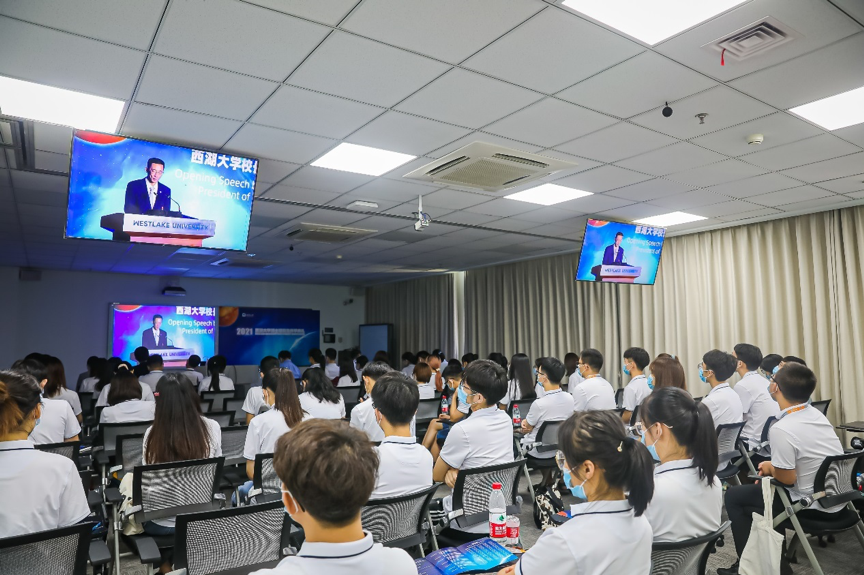 Dear students, at Westlake University, you already have the key to unlock the door to the future in your hands. Be bold, be adventurous and ambitious, question the very fundamentals, explore the frontiers of science and technology, push the boundaries of our knowledge, and become leading pioneers of your fields! We wish you the confidence of an eagle that soars against the wind and achieves the impossible, creating miracles of today and becoming the creators of our future. Westlake University will provide you outstanding faculty, advanced research facilities and a rich cultural environment. We are more than just a school; we are a family!
The blood that flows through the veins of each university, the genes that are passed down from generation to generation of students, eventually form the unique roots and character of a university. Dear new students, we look forward to you becoming your own masters creating and passing on Westlake University's culture. May you have the best experience on this very special and exciting journey of exploration, and I am honored to be part of it! Thank you!