Search websites, locations, and people

Westlake University Yungu Campus Officially Opens

27, 2021
PRESS INQUIRIES
Chi ZHANG
Email: zhangchi@westlake.edu.cn
Phone: +86-(0)571-86886861
Office of Public Affairs
On October 23, the inauguration of the Westlake University Yungu Campus and the phase III construction project was held in the Auditorium at Yungu Campus. Westlake University President Yigong Shi accepted the key from LIU Xin, mayor and deputy secretary of the Hangzhou Municipal Party Committee, marking the official opening of the Yungu Campus.
This is the first event to be hosted in our stunning new auditorium at Yungu Campus. The event was attended by representatives of the provincial and municipal government, Shanghai Construction Group representatives, university leadership, advisory board members, donor representatives, and university representatives. There were people of all walks of life gathered together to celebrate the making of history.  
Since its conception, Westlake University has taken root and thrived under the care and support of the West Lake District government. GAO Guofei, Secretary of the West Lake District Party Committee, expressed in his speech that through openness, enthusiasm, and caring and thoughtful service, together with Westlake University they will promote scientific and technological innovation and talent recruitment. West Lake District shares Westlake University's common commitment to building a world-class university, and hopes to work together to advance in this same direction. They will seize this important opportunity with the opening of Yungu Campus and actively integrate it into other major strategies.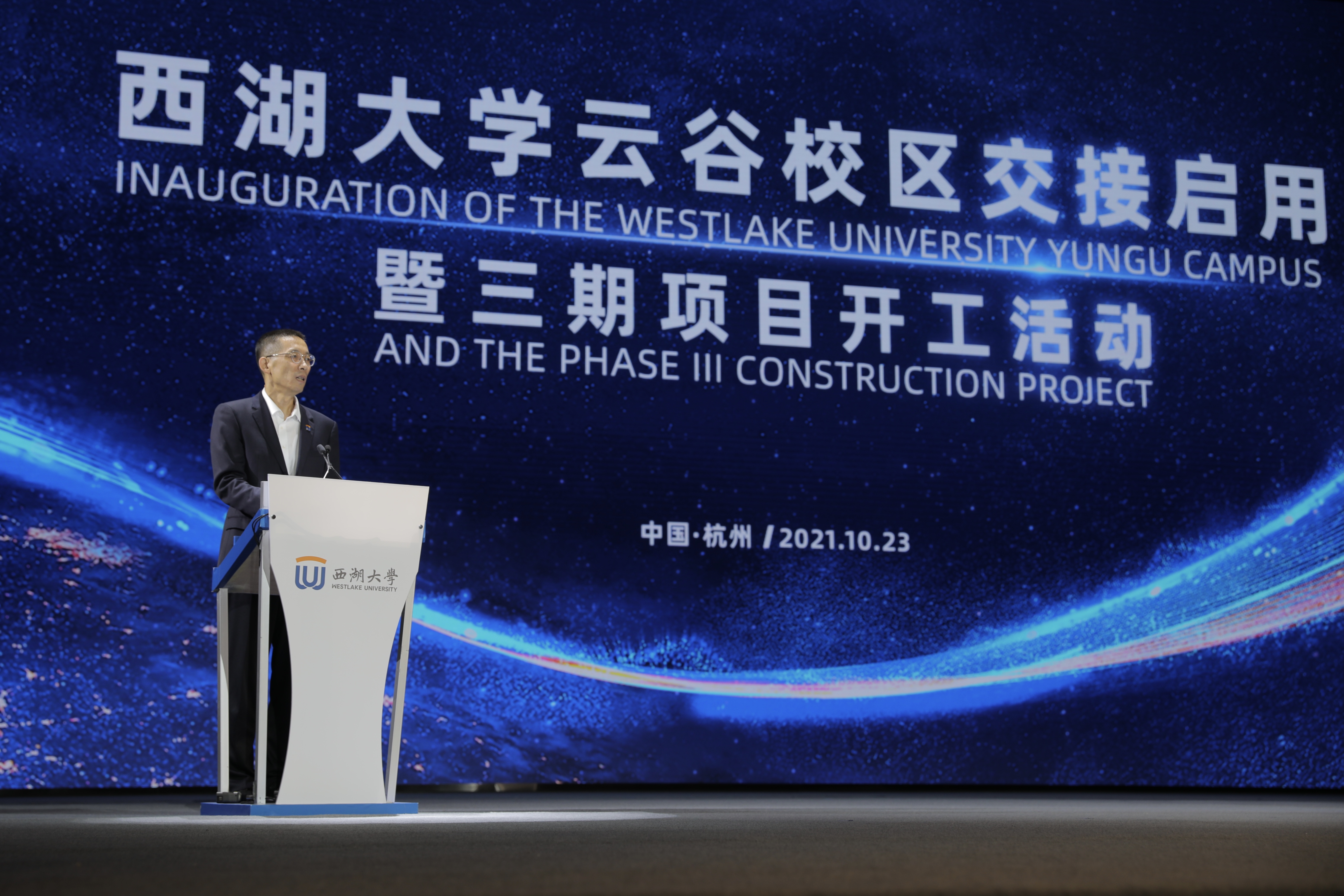 The entire Westlake community has been eagerly awaiting the opening of Yungu Campus. With such a stunning venue, the event did not disappoint. During the event President Yigong Shi expressed his heartfelt gratitude to the 2382 construction workers and personnel whose hard work has made Westlake University Yungu Campus a reality. He expressed that Yungu Campus serves as the flagship of Westlake University, integrating the beauty of architecture and the beauty of nature, as well as the power of science and technology with humanistic themes. He said that everything from the bricks and tiles to the plants and the trees at Yungu will nourish the dreams our Westlake community for years to come. We will unleash the potential of our creativity and innovative culture, promote exchange between science and the humanities, and fully integrate into the high-quality development and construction of a common prosperity zone. We will build an institution  that the people of Zhejiang and the country can be proud of.
The opening of Yungu Campus was only possible due to the joint efforts and hard work of many people. "We are excited and proud to be involved in building such a university campus, pursuing cutting-edge technology, and creating a better future for humanity," expressed XU Zheng, Secretary of the Party Committee and Chairman of Shanghai Construction Group. "It has been a pleasure," he continued, "to participate in building this world-class university, working hard with everyone to fulfill this glorious mission of serving the development of the country and the advancement of education."
Leaders from Zhejiang Province, Hangzhou City, and West Lake District, Westlake University Board of Trustees members, honorary members, members of the advisory , WE Foundation representatives, donor representatives, and representatives of Westlake facility construction, students and staff all came together to witness this important day.
After the Yungu Campus opening ceremony, the Phase III construction project also officially began. Phase III is the next phase of Yungu's construction, covering an area of 121 acres with a building area of 456,000 square meters.
With work beginning on Phase III, the Westlake University Town with Yungu Campus at its core is now moving from concept to reality. Westlake University Town (Hangzhou Yungu) covers an area of just over 17 square kilometers. Bringing together industrial projects such as Westlake University, Alibaba Cloud Headquarters, Cainiao Headquarters, and others, Hangzhou Yungu develops key industries like life and health, the digital economy, and intelligent manufacturing. It creates a five-in-one "education, scientific research, industry, culture, and ecology" new urban space. In June this year, the West Lake District government established the Hangzhou Yungu Development Center and listed the Westlake University Town Management Committee Office to coordinate the planning and construction of Westlake University Town.