Search websites, locations, and people

At TEDxYouth Event, Westlake Faculty Share 'Outside the Box' Ideas
Jocelyn Eikenburg
10, 2022
PRESS INQUIRIES
Chi ZHANG
Email: zhangchi@westlake.edu.cn
Phone: +86-(0)571-86886861
Office of Public Affairs
Three Westlake University professors were among the 20 speakers sharing their ideas to an audience of around 100 people at the TEDxYouth@BASISHangzhou event at BASIS International School Hangzhou on May 28.
The international school's student leadership club held the event under the TEDxYouth program, which fosters the spirit of TED (Technology, Entertainment, Design) conferences and their "ideas worth spreading" through local, independently organized events tailored to kids.
Themed "Outside the Box", the event aimed to "celebrate innovators, creativity, and new approaches to old ideas" through a lineup of talks from the international school's K-12 students and teachers as well as the Westlake faculty members.
Prof. Kiryl Piatkevich, who heads the Molecular Bioengineering Lab in Westlake's School of Life Sciences, offered an unconventional perspective on brain research through his talk titled "How Baby Diapers Can Help Us Study the Brain".
After pouring water into a diaper and observing how it expanded "like an air balloon", he explained this occurred because of the diaper's super absorbent polymers, which consist of long chains of atoms. In their collapsed state, the distance between such chains is equivalent to the size of biomolecules, while adding water causes the material to swell about 1,000-fold in volume. "Since these polymer chains and the distance between them are comparable in size to biomolecules, we use this process to blow up biological samples on the molecular level so we can see cells and the molecules they consist of better."
Known as expansion microscopy, the process allows Piatkevich to enlarge samples of brain tissue, in an effort to study a particular structure far too small to be seen via conventional light microscopy: the synapse, a bridge between two neurons which facilitates the flow of information in the brain.
"If we ever want to understand how our brain works, we will have to see and map every single synapse in our brain," he said. "Someday an army of microscopes will image every synapse in our brain and supercomputers will analyze these images to create a wiring diagram of our brain. Until then, mapping all synapses in our brain remains one of the greatest technological challenges of all time. It may take the work of generations to succeed. And yet I hope I will live to see the day when a substance from baby diapers helps us understand how the brain works."
In a talk titled "From the Past to the Future of Sustainable Agriculture", Prof. Thomas Cherico Wanger-Guerrero, who leads the Sustainable Agricultural Systems & Engineering Lab at Westlake's School of Engineering, expounded on the importance of his research.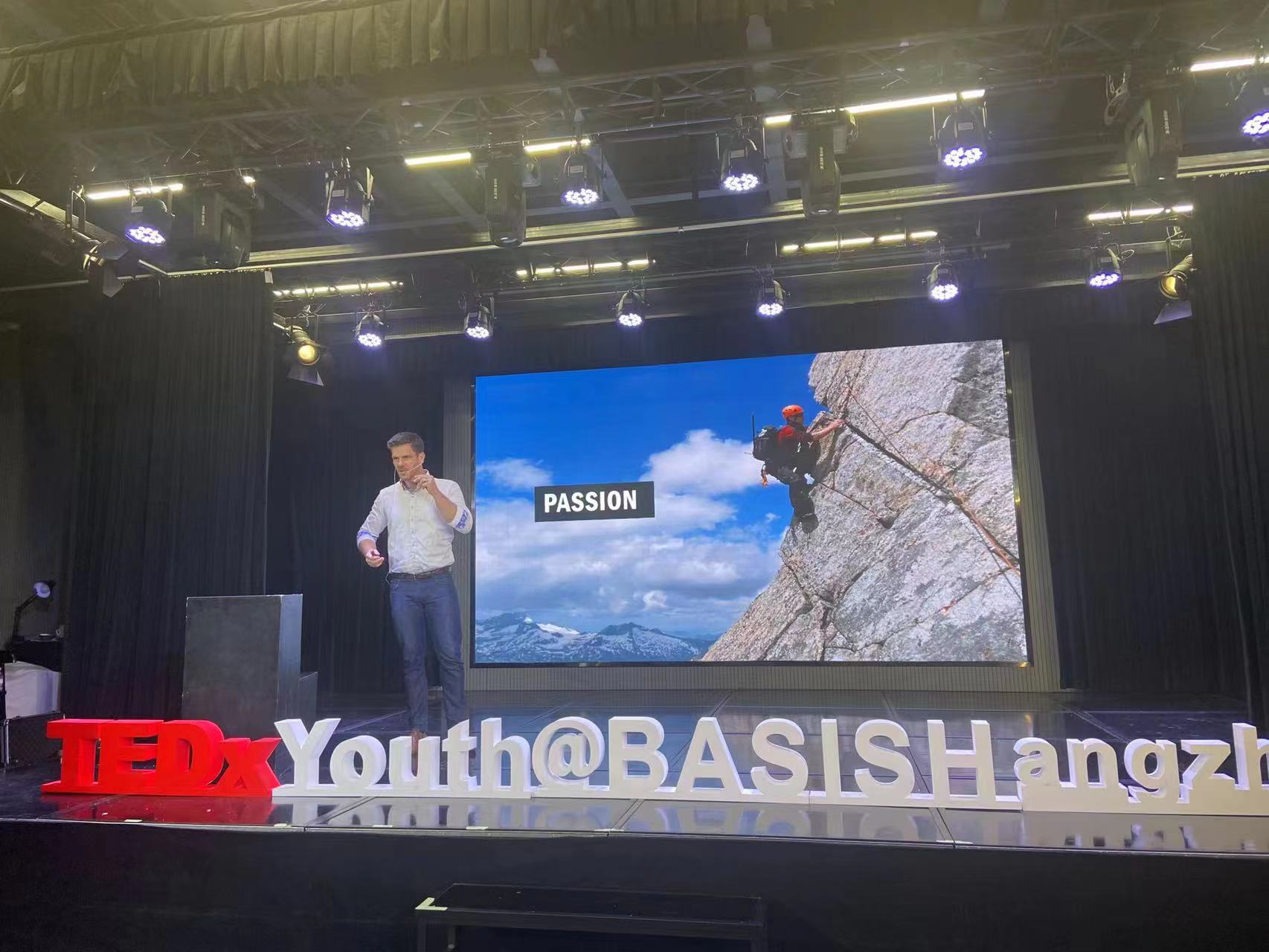 "As more food will be needed in the near future, our decisions today will determine what happens in the future to the planet, the climate, and the people," he said, adding he wanted to "find solutions inspired by past diverse agricultural systems, and integrate AI (artificial intelligence) and technological innovations for a sustainable agriculture of the 21st century."
As an example, Wanger-Guerrero, who held up for the audience an actual cocoa pod and seeds, highlighted the benefits of diversification for a cocoa farm where, instead of growing only cocoa trees, cocoa is raised with a variety of other plants. "These agroforestry systems can take a lot of carbon out of the atmosphere to help to prevent climate change, and they can also provide a home for biodiversity such as birds, bats, and insects." Based on studies done by his group on a global scale, he has found that "diversification benefits biodiversity and ecosystem services like pollination when we look at all crops globally."
He also offered a look into agricultural monitoring in his research, where specially developed cameras placed in farms across the globe help his team detect pollinators as well as other key plants and animals, and then analyze and integrate that data from around the world. "This allows us to give management recommendations to farmers on how to manage their farms for biodiversity."
At the same time, Wanger-Guerrero also hopes such devices could be used for educational purposes, to cultivate awareness among young people. "It is this environmental awareness that is needed to understand not just agriculture but nature and why it is important for the planet and people."
Prof. Rui Wang, in charge of the Next Generation Photovoltaic Lab in Westlake's School of Engineering, described in his talk titled "Next-Generation Photovoltaic" how a cup of coffee helped brew up a breakthrough in his research into perovskite solar cells.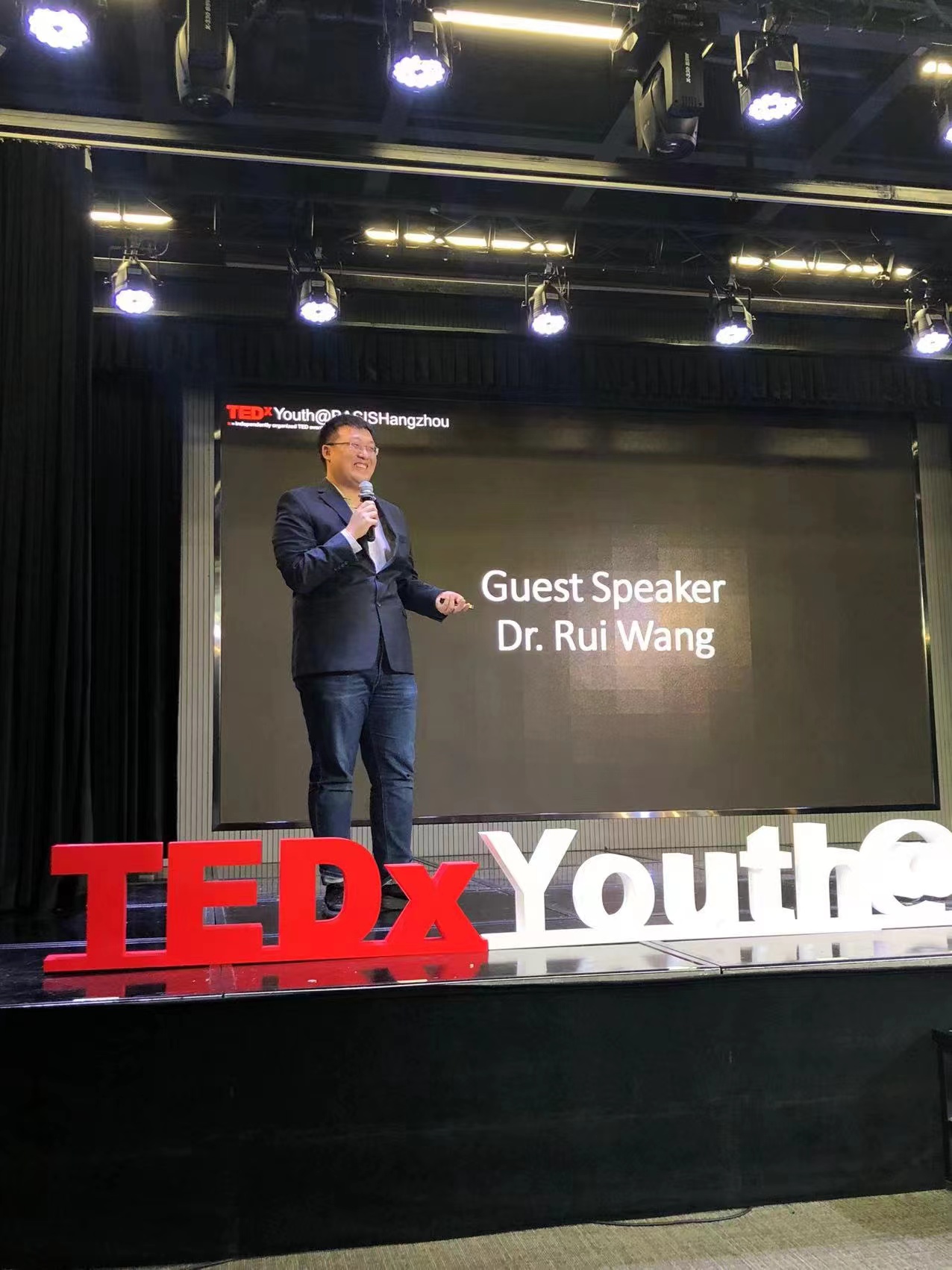 Synthesized from both inorganic and organic materials, perovskite represents one of the least expensive photovoltaic technologies. But it also has the shortest life span, lasting only 1,000 hours on average. "So stability was a critical issue, and then overcoming this issue was quite challenging. So I was 'stuck in the box'—until one day, I started to drink coffee with my colleagues."
Over coffee, one of his colleagues proposed an unusual idea: If coffee can refresh people's minds, could it also refresh the solar cells and improve stability?
After Wang and his colleagues went back to examine the key components of coffee, caffeine stood out. "I was very excited that caffeine contains the functional group that we have proved to stabilize the perovskite solar cells," he said. "After adding caffeine, the stability increased a lot," with the solar cells still functioning superbly after 1,300 hours.
Inspired by this success, Wang and his colleagues decided to test two different but similar structures -- theophylline from tea and theobromine from chocolate -- and found that devices treated with theophylline actually had the best power conversion efficiency, even compared to caffeine. "We made what was at the time one of the most efficient perovskite solar cells. So we thought outside the box again and got a better result."
Dr. Bryn James, the head of high school at BASIS International School Hangzhou, said: "We find collaborating with Westlake academics incredibly inspiring for both our students and staff. Seeing science in action helps our students to push themselves to engage in research and publication, and in the future it is hoped our high school students can contribute to some of the exciting research work Westlake's world-leading staff engage in."
According to Prof. Michael Reed, associate vice president for academic and international affairs at Westlake, "Westlake University was delighted to contribute to the TEDxYouth talks at BASIS International School Hangzhou. This event was a great opportunity to showcase some of the fantastic 'out-of-the-box' ideas of Westlake researchers and inspire the next generation of young people to pursue unconventional solutions to pressing problems." He noted that such events help Westlake build partnerships with international schools worldwide, and "through these ties we can provide their exceptional students opportunities to learn about our university and our outstanding faculty."