Search websites, locations, and people

Westlake Co-Founds Baima Lake Laboratory

20, 2022
PRESS INQUIRIES
Chi ZHANG
Email: zhangchi@westlake.edu.cn
Phone: +86-(0)571-86886861
Office of Public Affairs
On the morning of June 7, the founding ceremony of Baima Lake Laboratory was held in Hangzhou. The lab, also known as the Zhejiang Laboratory of Energy and Carbon Neutrality, was announced as one of the third group of provincial laboratories in Zhejiang. Initiated by the Zhejiang Provincial Energy Group, it is a novel type of research institution co-founded by Zhejiang University, Westlake University, and the Energy Group. The headquarters of the lab are located by Baima Lake in Binjiang District, Hangzhou.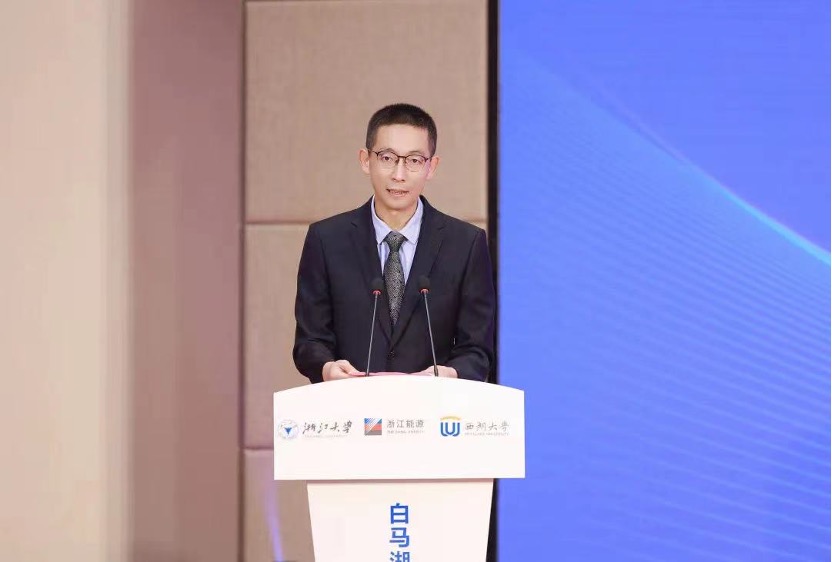 Prof. Yigong Shi, president of Westlake University and member of the Chinese Academy of Sciences, gives a speech at the founding ceremony.
The Baima Lake Laboratory will focus on energy-mass conversion and transfer of renewable energy to address vital science topics and technical obstacles in areas such as pollution and carbon reduction of fossil energy, and extensive utilization of new energy. The lab aims to stay ahead in developing technologies related to carbon peak and carbon neutralization, so as to facilitate the construction of a clean, safe, low-carbon, and efficient energy system.
According to the official announcement, Zhejiang is planning its future industries with extraordinary efforts. In addition to the Baima Lake Laboratory, the government of Zhejiang announced the establishment of two other provincial laboratories. With an average five-year investment of 6 billion yuan, the three labs will build a principal scientist system to cultivate a number of research leaders capable of carrying out in-depth and cutting-edge research, identifying national strategic needs, and organizing large-scale research projects.
The Baima Lake Laboratory (the Zhejiang Laboratory of Energy and Carbon Neutrality) is named after the location of its headquarters, Baima Lake in Binjiang District, Hangzhou. As one of the co-founders, Westlake University will build a sub-center for the lab on its Yunqi campus. This sub-center will serve as a research and development base for solar energy conversion and catalysis, with Westlake Prof. Licheng Sun as the principal scientist.
Sun joined Westlake as a full-time chair professor of chemistry in April 2020. He led the creation of the Center of Artificial Photosynthesis for Solar Fuels at Westlake. As a foreign member of the Chinese Academy of Sciences and a member of the Royal Swedish Academy of Sciences, he has long been engaged in applied and basic research into cutting-edge technologies related to solar fuels and solar cells. With remarkable research outcomes in the global research community, he has been selected as a highly cited researcher for several years in a row.
The sub-center being built for the Baima Lake Laboratory will address critical science issues and technical obstacles related to solar energy conversion and utilization. The center will develop essential materials and catalysts for high-efficiency photoelectric conversion, full-spectrum photothermal conversion, and catalytic synthesis of solar fuels. Moreover, the center plans to create a number of revolutionary technologies based on these essential materials and catalysts, so as to build a complete system for solar energy conversion and utilization.
In recent years, Zhejiang has been in the process of establishing provincial laboratories at a rapid pace based on a blueprint that values fundamental, forward-looking, and pioneering research, aiming to accelerate the development of an integrated Zhejiang-style and nation-leading innovation system with global influence.
As a novel type of research-oriented university, Westlake is supported by both private and public funding. It has been gathering research resources to carry out cutting-edge basic research since its establishment and approval by the Ministry of Education of China in February 2018. In July 2020, it took the lead to build one of the first provincial laboratories in Zhejiang, the Westlake Laboratory. Over the past two years, with an innovation team consisting of strategic scientists and young researchers, it has formed a collaborative innovation system including four centers, five core research groups, and four platforms. Moreover, it has achieved a number of remarkable breakthroughs in basic research, applied research, and emergency medical research.
In the future, Westlake will continue to bring together the world's best academic professionals and take the initiative to meet Zhejiang's industrial needs and China's strategic needs through innovative platforms such the Westlake Laboratory and the Baima Lake Laboratory, striving to become a major scientific and technological force of the future.