Search websites, locations, and people

Westlake Holds School of Engineering Summer Camp

02, 2022
PRESS INQUIRIES
Chi ZHANG
Email: zhangchi@westlake.edu.cn
Phone: +86-(0)571-86886861
Office of Public Affairs
Westlake University's School of Engineering recently held its annual summer camp, hosting a group of talented future engineers and leaders on campus. While speaking to several students about their thoughts on the summer camp, one theme kept coming up: One community.
On the second floor of our Yungu Campus cafeteria, six long tables were placed one after another, neatly set with boxed meals. Dean Jianjun Cheng; chair professors Stan Ziqing Li, Ling Li, and Weicheng Cui; and young professors Feng Ju and Enzheng Shi took their seats. Students soon joined them, eating and chatting away.
Such informal get-togethers over lunch are a common sight at Westlake University. As a small and inclusive community, students and professors often informally interact over a coffee or a meal. This relaxed atmosphere can be most conducive to communication and innovative thinking.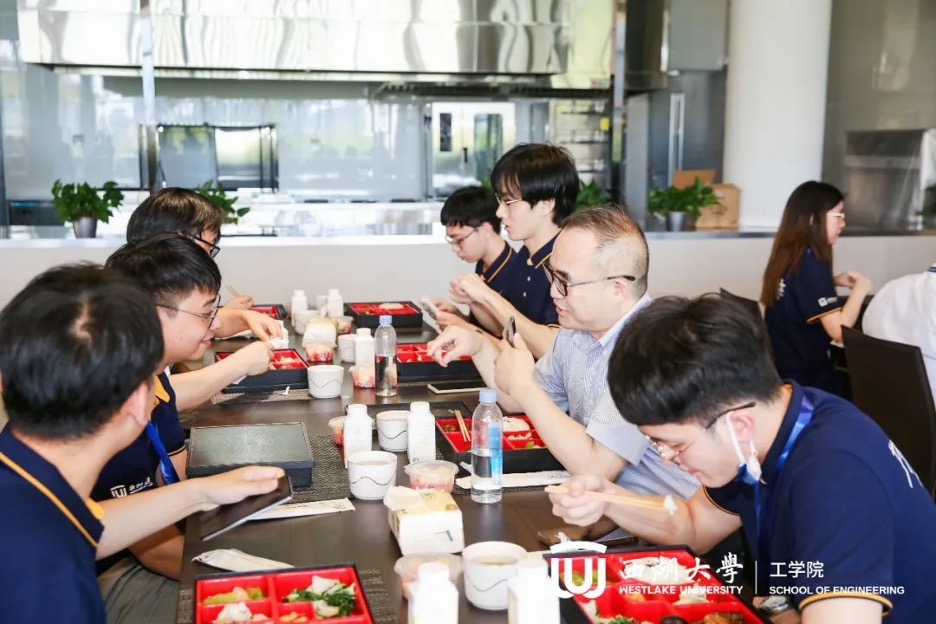 After a few brief icebreakers, the conversations in the cafeteria quickly turned to all manner of subjects.
"Why is Hangzhou so hot recently?!"
"During my undergraduate studies, I cannot spend that much time in the laboratory. Is this going to affect my doctoral application?"
"Why did you choose this major in the first place?"
"How should I choose a scientific research direction?"
Students and faculty alike shared and engaged as common members of a wider community, all on the same boat of exploration.
One student casually said that before going out he makes sure that the air conditioning is turned off. The offhand remark lit up Prof. Ling Li. "Great job! Westlake University has been working hard to create an environmentally friendly campus. The development of science and technology is important, but environmental issues such as global warming concern everyone, and everyone needs to start small. This is the environmental awareness we urgently need."
Soon after, Westlake President Yigong Shi arrived in the cafeteria. The students looked shocked. Could they really meet Prof. Shi while waiting in line for dumplings and soup? The summer camp students were the only ones taken aback, however. For everyone else, the president and other university leaders dining with the community in the cafeteria had long been a regular sight.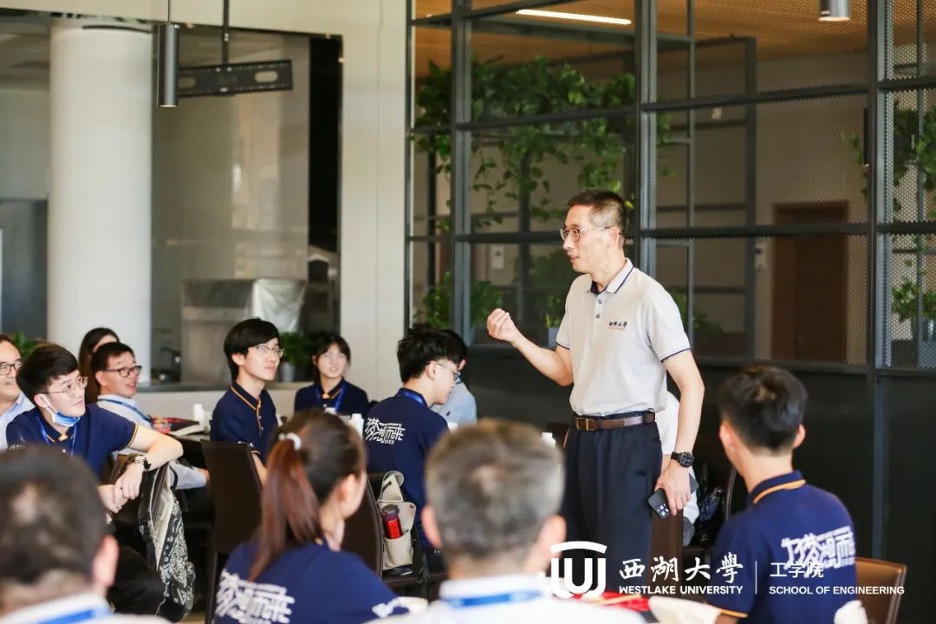 A long list, posted online, featured the names of professors, their research interests, and where to find them on campus. To our summer campers and their "treasure maps", 'X' very much marked the spot with the words "Please drop by!"
From the dean and chair professors to principal investigators, everyone's doors were open for our curious summer camp students. "At some schools, professors don't want to be disturbed by students like this," observed one smiling Westlake professor. "But not here. We welcome this form of 'harassment'!"
Yungu is a big campus, and the huge C-shaped Academic Ring, with 210,000 square meters of space, is the largest single building in a Chinese university. Fortunately, older Westlake students were more than happy to show summer camp students around.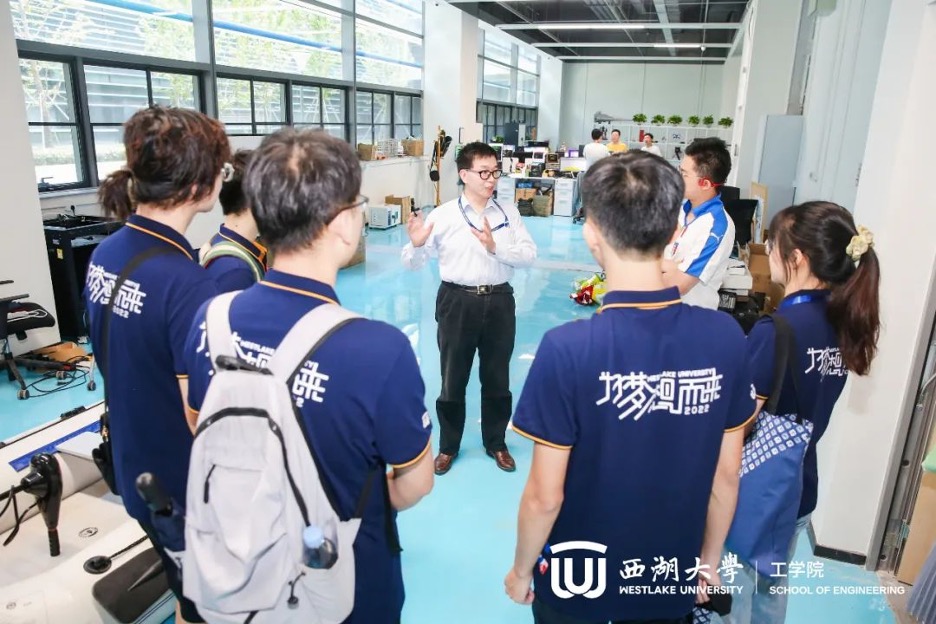 Down a quiet corridor, the sound of hurried footsteps could be made out. Some students came in search of Prof. Chengchen Guo's laboratory, hoping for a tour and a chat. Others wanted to see the robot dog in Prof. Donglin Wang's laboratory and discuss machine learning. "What about Enzheng Shi's lab?" asked one young woman. "The lab is holding a group meeting, and we are allowed to listen in!"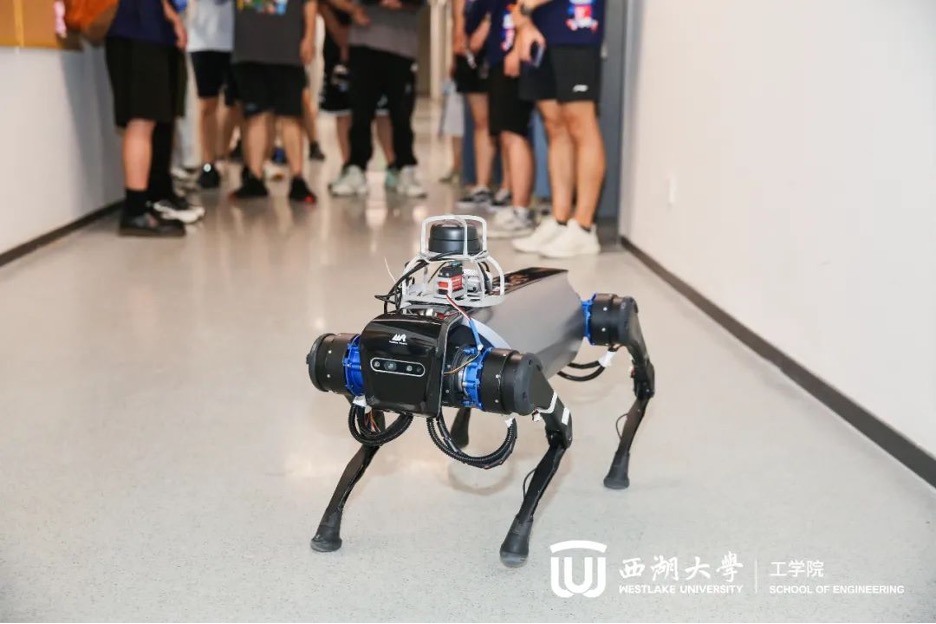 Students in this summer camp were quick to express to us just how open and inclusive Westlake University had been for them. It was not a university of disconnected schools and labs, but rather a single community of passionate thinkers and explorers. A single community which values communication, innovative thinking and diverse interdisciplinary engagement. A community which is a true joy to be part of.