Search websites, locations, and people

Hongyu Chen's Message to Westlake University's Inaugural Class of Undergraduates: Choose Your True Love

11, 2022
PRESS INQUIRIES
Chi ZHANG
Email: zhangchi@westlake.edu.cn
Phone: +86-(0)571-86886861
Office of Public Affairs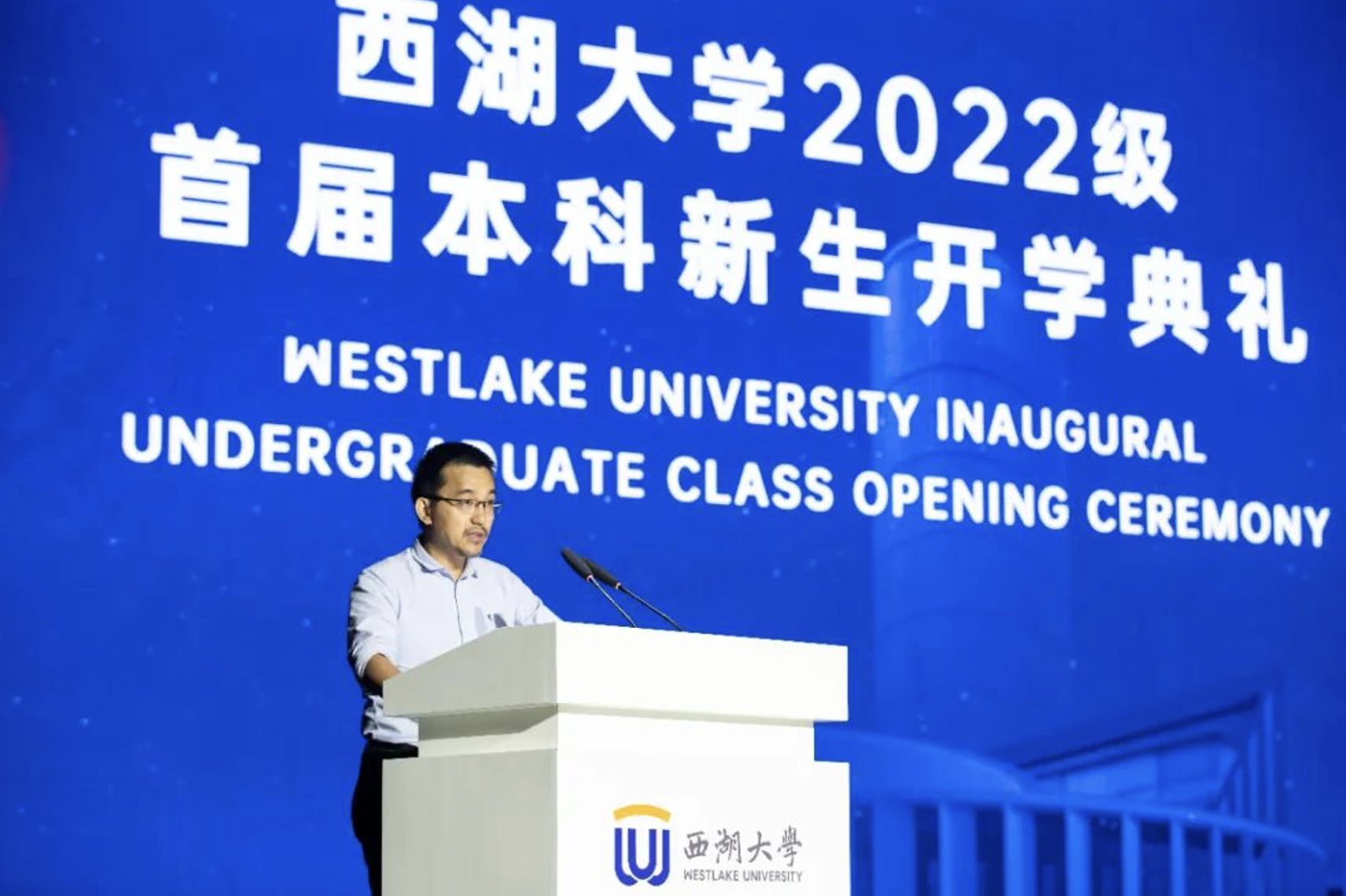 On July 31, Westlake University held the opening ceremony for its inaugural class of undergraduates.
Prof. Hongyu Chen attended the opening ceremony and presented a speech to this class of 60 talented young students and other guests as a faculty representative at the event.
(Below is an abridged and lightly edited version of Prof. Chen's speech, translated from Mandarin):
When I was young, I was a terrible student, I'm not being humble here, I was a terrible student.
However, after falling in love with chemistry, I went from being the 7th from the bottom of my class in the second year of junior high school, to entering high school (indeed, I almost didn't get into high school), to getting into the University of Science and Technology of China, and then getting into Yale University. It was a journey that I could never imagine back then.
Many people have asked me what the secret of success is, and this is the most important piece of advice I want to give to our undergraduates today: choose a major you love, or, find a way to fall in love with your major.
I think there are two types of attitudes towards work: You could do it for someone else, or do it for yourself. Let's say, if your mom asks you to clean up the dishes, you would only do it as told, unlikely going beyond the "job scope" to sweep the floor; whereas when your mom wants to clean up the room, it is by her own motivation. Thus, she would certainly be more invested and more responsive. Here, there is not much difference in terms of capability. It really matters if you want to take ownership in the work.   
Actually, I wasn't truly in love with Chemistry when I first started. I simply wanted to make my mom happy and prove to her that I wasn't a fool. Later, it was because Chemistry was the only subject I could gain confidence. But as I started to excel in the subject, my passion for the discipline begun to develop. I started to play with chemistry reactions on my own, with over 30 chemicals in my home collection. And I was reading college chemistry books when I should really be preparing for my college entrance examination. Anyhow, I was not reasonable in many things at that time, but I truly loved chemistry.  
I think I am very fortunate to have pursued a major that I love all the time. Because I love what I do, I never feel like I'm doing work. I can read chemistry textbooks like novels, and show off what I learned to my friends. It's not hard, it's fun.
My parents wanted me to pursue a career in finance, but I felt that money was not the most important thing. I think you want to love what you do, then you will do it well. If you do well, then the money will not be a problem.
I know many of you have concerns from the old days. Thirty years ago, artists and scientists may have earned less than a street-peddler. But now, ask yourself this: do you really believe that you would live a miserable life if you go all-in to pursue your dream? I believe not. And most likely you would have a decent and respectful life.
I would ask the parents in the audience to also think: under such a circumstance, would you rather want your child to pursue wealth and fame, or pursue a life that your child really loves? I think the answer is clear. Thank you everybody.